everywhere and anywhere, your next trip starts here

Cornwall | United Kingdom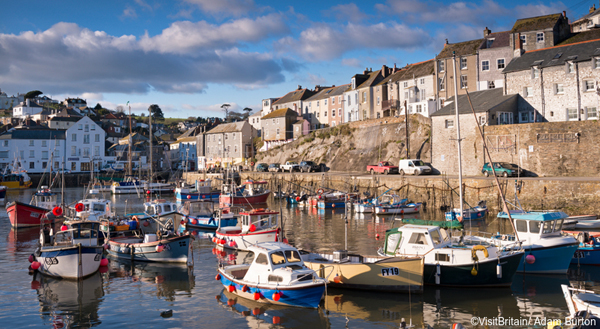 Megavissey harbour – a typical and beautiful waterfront town in Cornwall.

The wonders of the west country
By Paul Knowles
There are many travel destinations that are interesting, some more than others but then there are those special few that inspire the visitor to promise – to vow! – that they will return. Because they have fallen in love with the place.

High on my love-list would be the south-west of England – Devon and Cornwall. I have travelled throughout a great deal of the United Kingdom, and the land is everywhere rich in history, natural beauty, wonderful gardens – and terrific pubs.

But my heart belongs to the southwest.

There is something simultaneously exciting and relaxing about Devon and Cornwall. The coastlines seem endless, as this part of England stretches west toward Land's End. The coastal areas may offer forbidding, rocky cliffs, or sandy beaches, or delightful port towns.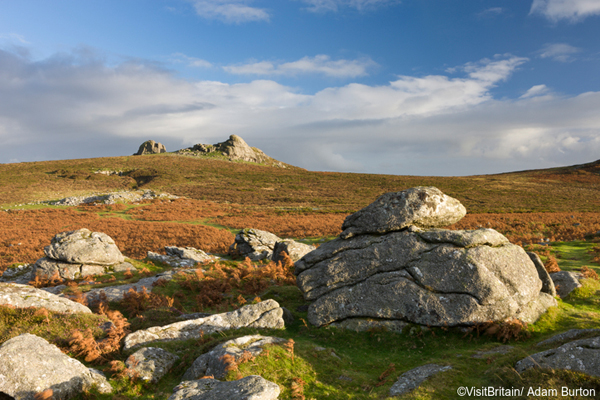 The stark beauty of Dartmoor

If you spend a week or two in the west country, you will discover a myriad of delights. I'm going to suggest a few. But first, one thing to avoid: Land's End. I know, it's an iconic location, but it has been spoiled by the same dreck that spoils Niagara Falls' Clifton Hill. A destination that should be a natural wonder is a disappointing disaster. One shop there, some years ago, was selling conch shells containing plastic figurines – sort of a seashell shrine. Side by side of the shelf were shells housing the Virgin Mary, Mickey Mouse, and Elvis. And that – not the view out into the Atlantic – is my lasting image of Land's End.

Enough of the negative. There is so much positive.

You'll probably arrive by car, from the east – so make sure your route takes you straight through Dartmoor, a National Park of stark beauty, flowering gorse bushes, and the remnants of prehistoric roundhouses. You enter Dartmoor by driving across a cattle grid, because once in the Park, the entire area – including the road you are navigating (slowly, please) – is open to free-range sheep, cattle, and wild, Dartmoor ponies. You exit Dartmoor on the west into the town of Tavistock, a lovely, small town with nice tea shops and an open air market.

Near Tavistock is a terrific heritage site, Morwellham Quay, once a Victorian mining town, now an extensive, hands-on interpretive historic village that even offers mine-cart trips into the copper mine.



Mystery and magic abound at the Lost Garden of Heligan

Devon and Cornwall are home to some amazing gardens. Throughout these two counties – actually, Cornwall is a Duchy – you'll find dozens of wonderful choices. In Devon, visit The Garden House, and revel in its unique plants from all over the world. In Cornwall, you must not miss the sub-tropical ravine garden of Trebah, or the Lost Garden of Heligan, one of the most amazing horticultural/archaeological enterprises ever.

Tim Smit, the passionate guy who led the restoration of Heligan, then went on to create The Eden Project – a variety of global ecosystems housed in enormous, geodesic domes. The Eden Project is only about 25 minutes from Heligan, but don't try to do them both in one day – each deserves your full attention for hours and hours.

Devon and Cornwall have a number of sea-side cities, including Torquay and Plymouth, but I prefer the quaint villages along the coast, especially Fowey (pronounced "Foy"), Mevagissey, and Marazion, home to the wonderful St. Michael's Mount, an island castle accessible by causeway at low tide, and otherwise by ferry. Across Mount Bay is a village worth noting simply because of its name – "Mousehole," pronounced, of course, "Mawzell".



St. Michael's Mount

Both Devon and Cornwall boast original recipes for Cream Tea – I suggest you try both, and decide your favourite for yourself. It will take many tastings before you are sure. And also, have some Cornish Pasties… and Plaice and Chips, and local beer, and… clearly, those who criticize British cooking have never been to a local pub in Cornwall.

There is much more – Tintagel, associated in legend with King Arthur; prehistoric ruins, like Carn Euny or Chysauster Ancient Villages, where you may find yourself alone with many centuries of human history; wonderful, old places of worship like Exeter Cathedral or St. Just-in-Roseland, where the churchyard is also a fabulous garden.

There may be great new places to visit, but just let me spend a few weeks in England's west country, first.
Paul Knowles is an author and travel writer. To contact Paul about travel, his books, or speaking engagements, email pknowles@golden.net.