everywhere and anywhere, your next trip starts here

Quebec City | Quebec | Canada



The city gate, part of the city walls that date back to the 1600s.

Bonne vacance in a destination is truly "unique"
Written and Photographed By Paul Knowles
It can be argued that "unique" is a vastly over-worked word. It doesn't just mean "special" or "significant," "unique" truly denotes something that is one of a kind. The only one.

And with that clear understanding, I can nonetheless confidently write the phrase, "Québec City is unique."

I believe that the traveller's bucket list of every Canadian should include a visit to this remarkable city. It's an experience like no other.

Québec is important for a number of reasons. Let's start with its history. Québec's Old Town (Vieux-Québec) is North America's only walled city, with its fortifications first built in the 1600's. It is also home to some of the oldest buildings on the continent, including Maison François-Jacquet-Dit-Langevin, built in that same period, and now a popular restaurant. This architectural history has earned Old Québec the prestigious designation as a Unesco World Heritage Site.

Walking around old Québec is literally like walking through history – and it often feels as though your footsteps are taking you through European history, as well, because so much of the oldest of Old Québec owes its design and construction to people who came from France to settle in the New World.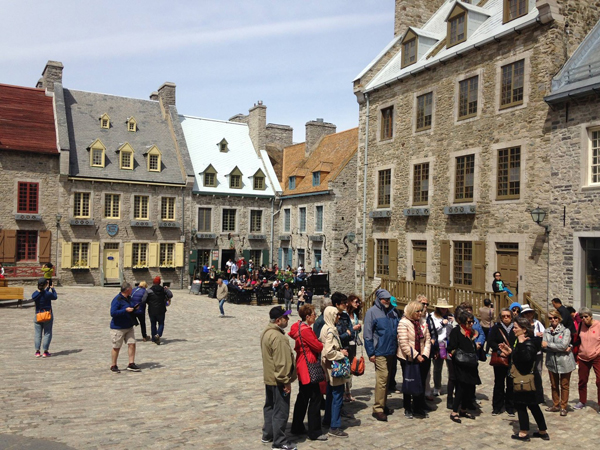 A walking tour of Old Quebec.

Of course, Québec is the location of the Plains of Abraham, the site of the decisive battle between the English, led by General Wolfe, and the French, under the command of Montcalm, a battle that led to the change in colonial overlords, from the French to the English. That conflict has reverberations that reach right into 2022 – and it might be suggested that the fact that both commanders died from wounds sustained in the battle may have been a precursor of the cultural and political conflict to come.

Much of the historic in Québec has been known for decades, but there is one site that is relatively new – the Lieu Historique National des Forts-et-Chateaux-Saint-Louis. Almost anyone who has visited Old Québec has visited the grounds of the historic Fairmont Chateau Frontenac hotel (my number one choice of accommodation in the city, followed closely by the boutique hotels below the cliffs, in Old Québec). If you have been near the Chateau Frontenac, you have undoubtedly walked the long, scenic boardwalk behind the hotel (the Dufferin Terrace), enjoying the view of the old city, or perhaps on your way to ride the famous funicular down the cliff-side.

Around 2005, it was discovered that a significant archaeological site lay directly under that boardwalk. Excavations began, revealing the remains of four forts and two residences of the early governors of Québec, dating back to 1620. When the excavations were finished, the site was opened as a temporary exhibition. It proved so popular that the decision was made by Parks Canada to make it a permanent historic site. Today, you can descend stairs that take you under the boardwalk, and stroll through the excavations and galleries that take you back 400 years in the history of this country.



A exhibit in the exhibition under the Dufferin Terrace, once the site of forts and governors' homes.

There is a lot more history here, too, including the 300-year-old church, Notre-Dame-des-Victoires, which overlooks Place Royale, the very spot where Québec City was founded in 1608.

Québec City hosts fascinating festivals and attractions, year round. True, in winter, some of them may be outdoors – a lot of the Carnaval de Québec goings-on, in mid-February, for example – but the sheer fun outweighs the shivers.

In the summer, my favourite event is the New France Festival, held in mid-August. It features outdoor concerts and other entertainment literally around every corner, a terrific parade with giant Papier-mâché figures, and tons of fun in every bar and bistro. Full disclosure: I got the chance to be part of the parade some years ago, in the full, lilac and lace costume of an early Québec seigneur. I have never felt so regal.

Speaking of bars and bistros, they obviously abound. I highly recommend relaxing with a glass of wine on a patio in the Old Town – people watching is a leading sport in Old Québec.



One of the oldest buildings on the continent, the Maison François-Jacquet-Dit-Langevin.

And to sample one of Québec's signature dishes, you must visit Le Cochon Dingue, home of the most incredible poutiness, always served with a crock of baby pickles. And for all of you who eschew poutine, I promise that the Cochon Dingue (Crazy Pig) will change your mind and your appetite, for good.

One of the great things about the historic section of Québec City is that it is easily walkable. But it never hurts to know where you are going, so I recommend that you sign up for a walking tour, or take a horse-powered caleche ride – or, for a whole different perspective, take a river cruise with Croisieres AML, which offers a whole spectrum of options, including dinner cruises.

One final piece of advice – don't short-change yourself on time spent in Québec. This is a city to savour, and a visit here needs time to explore, time to enjoy great food and drink, and time to relax. Bonnes vacances!
Paul Knowles is an author and travel writer. To contact Paul about travel, his books, or speaking engagements, email pknowles@golden.net.