everywhere and anywhere, your next trip starts here

Destination | Treetops Resort
United States | Northern Michigan | Gaylord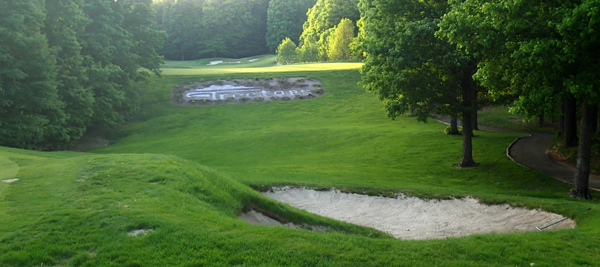 9th hole on Threetops at Treetops. Last hole on America's number one rated 9 hole par 3. Photo by Jon Rohr

No Better Place To Start Again
Treetops Resort located in Northern Michigan provides this lapsed Ontario golfer an opportunity to reignite that loving feeling.
By J. D. Rohr
Over the last 16 years I've played golf less than a handful of times. Prior to this I would play a couple of times each year. After many years away I've reconnected and this year, in semi-retirement, I consider myself a reborn golfer.
Those who invite me to golf, find out quickly that what I lack in skill … I make up with in enthusiasm. Regardless, the buzz I get from hitting a golf ball straight, no matter how infrequently … is very addictive.
Recently, I had the opportunity to ride that "emotional rollercoaster" of a game. This experience was offered at no better of a place than, Treetops Resort in Northern Michigan.

At the end of May, myself and 3 other travel writers experienced a three day, 5 course program at Treetops Resort. The group represented a diverse level of destination golfers, regardless of skill, we all enjoyed a somewhat intense three days of golf, and of course, the hospitality that comes along with a resort based environment.
I am a very good "inconsistent" golfer. However, a good straight drive makes me feel amazing. Where a loose the ball drive, makes me spurt, socially inappropriate and somewhat derogatory language, in no particular direction except at myself. Most of the time I hit the ball far, with a little slice, to no particular side. Yes, I know I over correct, and one day I'll be a very good "consistent" golfer - lol.

Author in a sand trap, not so unfamilar territory. Photo by Barry Wolfe

Treetops Resort is a golfing destination like nothing I've ever experienced, one that every serious golfer should attempt, it has everything to offer a seasoned golfer … and yes, I am serious now. The resort offers much more than simply golf, although golfing makes up approximately 75% of the resorts revenue.
The 5 challenging courses are situated in part of Michigan that has all the amenities an inland playground has to offer a avid golfer and outdoor enthusiast like myself. Upon entering the resort, first impressions well simply … impress. The beautiful entrance is pleasant, calming and pristine. Words simply can't describe the rolling beauty of the landscape. Breathtaking is not only a fair statement but also an accurate one.
Golf is extremely humbling … not surprisingly the very same humbling game, can put a smile on your face, one that stretches from ear to ear. Add to that your golf mates "hoots and howlers", and your "most excellent recent accomplishment" becomes a feeling of euphoric magnitude ... until of course, that next shot, where you skull the ball just short of 20 yards. A good hit from a difficult lie will easily give you something to talk about. Add to that a landing close to the pin and you've got bragging rights for days. I have a few of those, and will remain humble.
In 1954 Treetops started as a downhill ski resort called the Sylvan Knob Ski Area. In the mid 80's then owner Harry Melling hired Robert Trent Jones, clearly "one of the most influential names in golf course architecture" to do what he does best, design a masterpiece.

Masterpiece opening in 1986 and quickly made a reputation as a challenging high slope course. Photo by Jon Rohr
A name changed occurred during construction. Jones happened upon the perch overlooking the Pidgeon River Valley, on what is today the 6th hole of the original course. That course is fittingly called "Masterpiece". While gazing down at the green below, he quipped to Melling that "all I can see are the tops of trees, you should call this place treetops". At once the Sylvan Knob Ski Area became the four-seasoned resort known as Treetops. Several years later, the famous treetops view, that resonated with Jones, was multiplied, as four additional courses were carved out, making Treetops resort high on the DOERR scenic course scale.
When Masterpiece opened in 1986, it had the highest slope rating in Michigan and remains today one of the most challenging courses. Currently the course is owned by a number of investors and managed by GM Barry Owens, and Director of Recreation Kevin McKinley. When the resort purchased additional land North of the resort the operation went from 179 acres to 3,300 acre, and the 5 wonders of Michigan were revealed.
The addition of 4 more courses in what's called North Treetops, includes America's #1 rated par 3 course called Threetops. Which by the way is absolutely beautiful, with amazing design, slopes and ample club car brake warnings, as steep hills with multiple switchbacks has your cart partner holding on for dear life.
Golf is an extremely enjoyable sport, but honestly, at times, it can rip out your soul, and have you cursing like some drunken sailor from Liverpool, England.
Along with golf, TreeTops continues to offer skiing and an assortment of additional outdoor activities year long. It host business events and offers large conference and convention space. The Inn and lodge offer guest all the amenities required, including a indoor/outdoor pool with spa.
The resort collaborates with local outfitters in nearby communities to make use of every natural element found in this pristine part of the US.
In the summer it sells it's destination to the southern states as a "escape the heat destination". With Traverse City Airport (TVC) a short drive west, the resort caters to golfers from all over the United States and Ontario, Canada.

Seventh hole on Threetops, Lee Trevino put to shame challengers with his hole in one. Photo by Jon Rohr
Treetops is for the intermediate to advanced golfer. Had I no previous experience playing the sport I would have had to invest a small fortune in golf balls, as most of the holes, Tradition excepted, are narrow with amble trees outlining the fairway.
During the first two days I managed to fuddle my way through the first four of the five courses. Playing 18 holes on Signature then to the famous North American 9 hole par 3, called Threetops. Day two had us on Tradition in the morning and Masterpiece later in the day. Tradition is been cleared of all the trees (800) making it more of a links course in an effort to round out the designs and offering something for every golfer.
The first four challenging courses, warmed me up enough to actually break 100 on the fifth, Premier, a par 72. Clearly a mediocre score to most golfers, but an accomplishment by my standards, none-the-less.
The attraction to the Resort during spring, summer and fall is clearly golf. However, I easily can see families and friends of golfers, those who are outdoor oriented, having a ton of fun at Treetops as well.
For those who like to get together and have fun. For those who at the end of the day, look forward to regrouping and sharing stories of the days events, Treetops resort is an ideal place to be. The hospitality of this resort is excellent, and the views are spectacular.
For your next golf adventure, whether annually or a one-off, Treetops is not only "a most civilized" location to spend "long days" and "good times" in the woods, but also offers outdoor activities for those that do not golf or perhaps not as much. It's a well rounded destination, with a clear focus on fun, I hope you enjoy it as much as I did.
Get the DOERR
Destination Outside Experience Rohr Ranking (DOERR)
J.D. Rohr is a 4 Season Canadian travel writer who experiences destination activities on both land and sea.