everywhere and anywhere, your next trip starts here

Red Carnation | Hotel Experience


The quirky and charming Chesterfield Hotel in Palm Beach.

A valuable lesson from the Red Carnation hotels
By Paul Knowles
I don't usually use media releases as a basis for this column. I think it is important that you read about my first-hand travel experiences – good, bad, or occasionally ugly.

But a release I received via e-mail this week sparked my interest. It came from the Red Carnation Hotel Collection, announcing that they had been named the "number three best hotel brand in the world," by Travel + Leisure.

Over the course of the last decade or two, I have had the chance to stay at several Red Carnation hotels. Are they third best in the world? Possibly. Are they the most diverse, unique, and often quirky hotels in the world? Without question.

There are 20 Red Carnation hotels, in eight countries. And they are all unique. I enjoyed my stays in The Montague on the Gardens in London, U.K.; The Summer Lodge Country House & Restaurant in Dorset, U.K., the Hotel d'Angleterre in Geneva, and The Chesterfield, in Palm Beach, Florida.



Red Carnation Hotels founder and president Beatrice Tollman.

Great places… not at all inexpensive, however. Bring your gold card.

There are stories to tell from each stay. F'rinstance, at the Chesterfield, they have valet parking. Turns out, that's because this high-end hotel in the heart of Palm Beach has no parking lot. And on-the-street parking is limited to a couple of hours. So they employ agile young people to move the cars of all guests, every few hours.

The décor, when I was there, was very much dictated by the personal taste of Red Carnation Hotels founder and president Beatrice Tollman, a woman of grit, determination and eclectic tastes.

One night, as we were having drinks in the bar, we were the only customers present, so when we left, the singer-guitarist would have no audience at all. I apologized to him, but I loved his answer. "Hey, if there's nobody here, they're paying me to practice."

Red Carnation hotels have a relationship with a superb South African winery, Bouchard Finlayson. During one of my stays at the Chesterfield, there was a private tasting, hosted by the winemarker himself, Peter Finlayson. I ended up seated next to him for the entire evening, and had a terrific time. I also learned a lot about wine and wine making.



A terrific vista from the Hotel d'Angleterre in Geneva.

In Geneva, the manager of the Hotel d'Angleterre was so personable that he invited us to dine with himself and his wife, one evening. A lovely night was had by all.

My fondest member of the Montague was not the hotel, itself, but my discovery that it was located one minute from the British Museum. Museums in the U.K. are free – no charge to see some of the greatest marvels in the world. (And see them asap because a lot of the stuff was looted from other countries, and bit by bit, it's quite properly being sent back.)

I have enjoyed all of the Red Carnation hotels, but I learned my most valuable lesson at the Summer Lodge Country House. As a travel writer, I was there as their guest, with dinner and accommodation offered on the house.

At dinner time, I repaired to the lounge – I love the British custom of relaxing in the bar, ordering your food while having a pre-dinner beverage, and being politely invited to your table when your first course is ready to be served.

The bartender greeted me warmly, and suggested they had a very nice selection of Scotch whiskey. A great idea!

Then, the chef came from the kitchen to say, "You can order off the regular menu, but we have a very fine wine cellar, and I'd be happy to prepare a special meal with wines paired with each course." Well, I thought I had died and gone to heaven.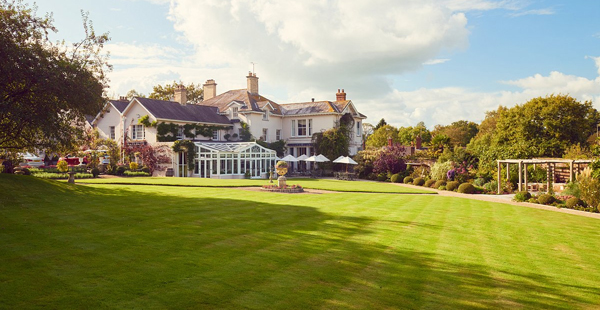 The Summer Lodge, where the author learned the importance of asking questions.

The meal was one of the finest I have ever had (I recall venison, among much else), and the wines – and Scotch – were amazing. I eventually headed to bed, sated and smiling.

I checked out the next morning, knowing it was a mere formality – I was the guest of the hotel.

Until they presented me with a bill that was somewhat north of $300Cdn. They explained that my stay, and a regular meal, were on the house, but all those special wines and unique food were not included. I swallowed hard, and reluctantly presented my credit card.

Today, when on a travel gig, I confirm every detail of the arrangements before ordering anything. So thank you, Red Carnation, for a pricey but valuable lesson in my trade.
Paul Knowles is an author and travel writer. To contact Paul about travel, his books, or speaking engagements, email pknowles@golden.net.
Photo credit Red Carnation Hotels.