everywhere and anywhere, your next trip starts here

Laurier House
Ottawa | Ontario | Canada



Excerpt's from King's diary, a photo of the longest-serving PM, and a pair of his spectacles.

"Anyone who loves history, loves this place"
Words and Photos By Paul Knowles
We are living in an era where historical figures are under heavy fire. People from the past – especially political leaders – are being demonized, with their ashes swept under the carpet of political correctness.

Not without cause, of course. Some national figures have done some horrendous things. Many have also done noble and noteworthy things. And I, for one, think that we're better off to have a full and rounded view of these people – and their times.
My new favourite place to experience a broad swath of Canadian history is Laurier House, a Parks Canada site in Ottawa. It's unique, the long-time home of two of our country's Prime Ministers – first, as the name implies, Sir Wilfrid Laurier and his wife Zoe, and second, Canada's longest-serving Prime Minister, William Lyon Mackenzie King.

The house is furnished as Mackenzie King left it, with a couple of rooms authentically restored to the Laurier era. Those furnishings are more significant than you might guess – many historic homes have period pieces, but not artifacts original to the actual home. Not so, at Laurier House.



The Laurier sitting room, furnished with furniture and items owned by Sir Wilfrid and Zoe Laurier.

A visit to Laurier House will leave any Canadian with a much better understanding of this nation's history; you'll also feel you know two of our more significant Prime Ministers much better than you did before.

I learned a lot during our visit. For instance, that until 1948, Canada provided no Ottawa lodgings for our Prime Ministers. Today, of course, it's 24 Sussex Drive – if the renovations are ever completed. But in Laurier's and King's time, their home was provided by generous supporters of the Liberal party, which purchased the home for $9,500 in 1878. Both men were Liberals; Laurier was Prime Minister from 1897 to 1911; King, in three different terms, for the bulk of the time between 1921 and 1948.

King lived in the house until his death in 1950; he gave the house to the nation of Canada, to be a museum in perpetuity – a status enshrined in a specific act by the Parliament of Canada.

With the rooms just as King left them, visitors have the unique opportunity to envision the life and times of this unique man, certainly Canada's quirkiest Prime Minister.
The rooms on the main floor are typical of the times – period furniture, painted portraits of significant people, sideboards with liquor bottles, elaborate table settings in the dining room.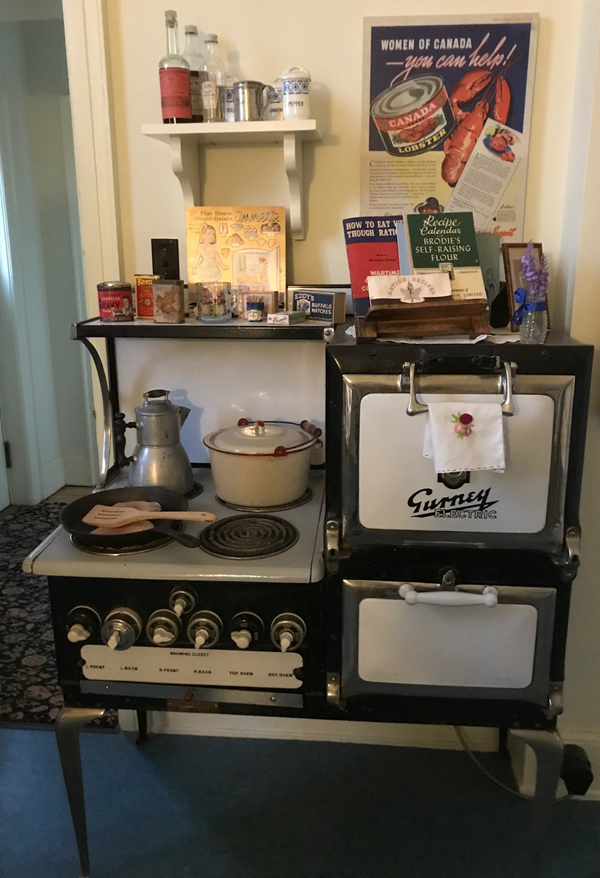 This stove, from the time of King, is part of the Canada during World War II exhibition in the kitchen of Laurier House.


But I was more captured by the upstairs rooms, especially, of course, King's library in the attic, lined with shelves of his books, and including a grand piano with King's crystal ball sitting on it. King was a noted spiritualist. He held séances – the sitting room on the main floor has the chairs set in a circle for just such an event – and he tried to communicate with his deceased mother through mediums, and through the aforementioned crystal ball. There is a small shrine to his mother, Isabel Grace.
Many of us know of this unusual side of King, but Juan Sanchez, whose official title is "National Historic Site and Visitor Experience Manager", at Laurier, added to the story. It seems that while the reputation for all things supernatural stuck to King, his actual interest in them did not – by the late 1930's, about half-way through his tenure as Prime Minister, this Presbyterian bachelor had decided such pursuits were "evil", and he had left them behind.

Such fascinating bits of information – and Juan was a font of such tidbits – added a lot to my admittedly meager trove of information about our former PMs.

I loved the fact that a wanted poster for 1837's rebel leader – William Lyon Mackenzie – was framed and hung on the wall of Laurier House. Juan assured me that King had put it there, himself, hugely proud of his rabble-rousing grandfather.

Coming from south-western Ontario, I also spotted two familiar-looking paintings in King's bedroom – works by noted Doon artist Homer Watson, who Juan tells me corresponded with King.



Mackenzie King's piano, topped by photos and his own personal crystal ball.

I also noted the striking contract between the very masculine décor of the King rooms, compared with the feminine touches – not to mention the francophone Catholic elements – in the sitting room decorated by Zoe Laurier. Juan told us that Zoe, French-speaking and Roman Catholic – was something of an outcast in the Ottawa society circles of her day, so I like the fact that Zoe's restaurant in the elegant Fairmont Chateau Laurier hotel is named for her.

There are a number of unique elements at Laurier House. Still operative – if slightly claustrophobic – is the 1921 elevator installed by King. A recent restoration project has been carried out in the kitchen, where Sanchez personally headed the development of an exhibit about Canadian households in World War Two. It's very hands-on, a great opportunity to understand what life was like in Canadian kitchens during the struggles of the 1940's. Visitors to Laurier House (it's only open for tours in the warmer months, usually starting around May 1) will meet costumed interpreters in the kitchen, and throughout the home.

You can spend many hours at Laurier House; it's more than a museum, it's an enticing environment that carries you back in time. Juan says, proudly, that, "We have over 60 years of history, here… Anyone who loves history, loves this place."
Paul Knowles is an author and travel writer. To contact Paul about travel, his books, or speaking engagements, email pknowles@golden.net.